Press Release & Industry News
UBM Asia launched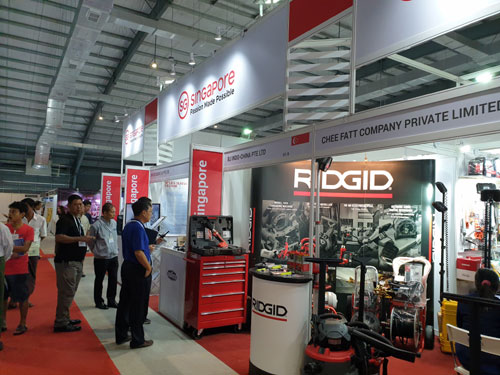 MEGA Industrial & Infrastructure Event has launched its first time ever in Myanmar from 11th – 13th October 2018 at a brand new venue - Yangon Convention Centre (YCC), Yangon, Myanmar.
This unique combination of 4 special shows at 1 location include:
- Construction, Power & Mining Myanmar 2018 is the 6th international trade exhibition for the Building & Construction, Electric & Power, and Mining & Minerals Recovery for Myanmar.
- Intermach Myanmar, MTA Myanmar and Subcon Myanmar 2018 in its 6th edition is the largest one-stop sourcing platform to the local manufacturing sector.
- MyanmarWater 2018 also in its 6th of edition is Myanmar's leading international water supply, sanitation, water resources, and industrial wastewater treatment and purification event.
- Renewable Energy Myanmar 2018 takes place for the 4th time and is moving up to explore endless opportunities in the booming renewable energy market of Myanmar
And featuring 350 participants from 23 countries with 16 international pavilions from China, Singapore, Malaysia, Thailand, Taiwan, India, Israel, Korea and Japan. Showcasing technologies and equipment covering a variety of industries including Industrial Machinery, Subcontracting & Sourcing, Building & Construction, Mining, Water & Wastewater Management, Power and Renewable Energy.
Myanmar now has the fastest-growing economy in ASEAN and occupies a strategic position at the crossroads of India, China and Thailand, and currently in its seventh year of sweeping economic liberalization and political transition. The manufacturing sector absorbed foreign direct investments (FDIs) worth US$275.6 million through 19 projects in the past three months, according to statistics provided by the Myanmar Investment Commission (MIC). The MIC targets FDIs worth $3 billion during the six-month interim period from April to September, prior to the next 2018-2019 fiscal year. The manufacturing and real estate development sectors are likely to maintain the top position in attracting FDIs during the six-month interim period.
"Myanmar is the new rising sun of South East Asia. This emerging market is opening to the global economy and expected to see strong growth. The country long-term economic outlook is positive, with rising investment in manufacturing, transportation, power and infrastructure expected to drive GDP and industrial growth.The MEGA Industrial & Infrastructure is the 4-in-1 industry event for business people to find new products and solutions, and see new technology and machines
from across the world.Thisis the perfect platform for both local and foreign businesses to invest in Myanmar." Said Mr. Fraser Hawkes, General Manager, UBM Myanmar
In addition the event features a Safety Training and Activity Programme organized by Global Enchanting Training and Management Centre during 11-13 October, the leading MyanmarWater Conference with this year's theme "27 Investment Opportunities in Myanmar" on 12 October and Comprehensive Technology Seminarsfrom world leading companies during 11-12 October. The activities will provide opportunities to meet, learn, share and network among both government and private sector, and local and international speakers and delegates.
MEGA Industrial & Infrastructure Event is organised by UBM Asia and strongly supported by many leading industry associations including ; ProMinent and Supreme Group of Companies and supported by leading industry associations including The Union of Myanmar Federation of Chamber of Commerce (UMFCCI), Myanmar Industries Association (MIA), Myanmar Federation of Mining Association (MFMA), Myanmar Construction Entrepreneurs Association (MCEA), Myanmar Engineering Society (MES), Renewable Energy Association of Myanmar (REAM), Yangon Electricity Supply Corporation (YESC), Yangon City Development Committee (YCDC), Delegation of German Industry and Commerce in Myanmar and strongly acknowledged by the Ministry of Commerce , Ministry of Construction, Ministry of Electric and Energy, and Ministry of Resources and Environmental Conservation.
MEGA Industrial & Infrastructure Event, It is a "must-visit" event for industry professionals from Industrial Machinery, Subcontracting & Sourcing, Building & Construction, Mining, Water & Wastewater Management, Power and Renewable Energy industry. The exhibition is free-to-attend for trade professional visitors.
For more information, please contact:
Wantita Porntanawong (Bow)
Tel: +662 036 0500 ext. 728, Email: [email protected]
Ya Mone Oo
Tel: +951 378975 Ext. 103, Email: [email protected]
About the Show
Date: 11th to 13th October 2018
Opening Hours: 9am – 5pm
Venue: Yangon Convention Centre (YCC), Yangon
Website: www.cpmmyanmar.com, www.intermachmyanmar.com, www.myanwater.com, www.renewableenergymyanmar.com